American Entropy is dedicated to the disruption and discrediting of neoconservative actions and the extreme ideals of the religious right.
UN atlas documents damaging environmental change
This info was brought to my attention from an article by the BBC on the recent release of the United Nations Environment Programme's amazing "One Planet Many People" Atlas.

I guess I'm not surprised by the content but the comparisons are amazing.

Here is the first pic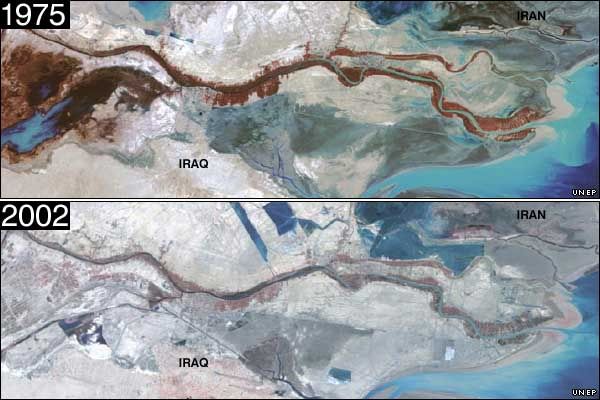 What you are looking at is the Southern tip of Iraq and neighboring Iran near al Basra. The dark purple color you see in the 70s is the once lucrative fig farming industry along the Shatt al-Arab estuary. This once thriving crop has been destroyed by, "[t]he UN estimates war, pests and salt have destroyed 14 million palms."

On a side I want to look at a recent article from Reuters covers the problems of the current invasion and occupation of Iraq

"An improvement is almost impossible in these security conditions. Chemicals are seeping into groundwater and the situation is becoming worse and creating additional health problems," said Pekka Haavisto, Iraq task force chairman at the United Nations Environmental Programme.

"Iraq is the worst case we have assessed and is difficult to compare. After the Balkan War we could immediately intervene for protection, such as the river Danube, but not in Iraq," Haavisto, a former Finnish environment minister, said on a visit to Jordan to meet with Iraqi officials.
...
The situation became worse after the 2003 U.S.-led invasion, in which depleted uranium munitions were used against Iraq for the second time and postwar looting and burning of the once formidable infrastructure caused massive spills and toxic plumes, Haavisto said.

"The bombing and war carried a cost but the looting cost the environment more, such as in the Dora refinery or Tuwaitha nuclear storage," Haavisto said.

"There has not been proper cleanup and only assessment work at some of these sites. Very little has changed and Iraqi teams are in the process of getting in some of these locations."

The U.N. official was referring to the 56 square km (22 sq mile) Tuwaitha complex south of Baghdad where 3,000 barrels that stored nuclear compounds were looted.

In the Dora depot on the edge of Baghdad, 5,000 barrels of chemicals, including tetra ethylene lead, were spilt burnt or stolen, a U.N. survey showed.

Contaminated sites near the water supply also include a 200 square km (77 sq mile) military industrial complex, torched or looted cement factories and fertiliser plants, of which Iraq was one of the world's largest producers, and oil spills.

"Iraq was a modern industrial society in many ways. The chemicals are very risky on its future. The more time passes the more consequences on health," Haavisto said.

He said postwar assessment of the environmental damage was proceeding despite threats to the 1,000 staff of an Iraqi environment ministry, set up as an independent unit after the American invasion.

The field studies will eventually include depleted uranium, a toxic, heavy metal used to make bombs more lethal, of which the United States used an estimated 300 tonnes in 1991 Gulf War and an unknown quantity during the last invasion.


Back to the atlas…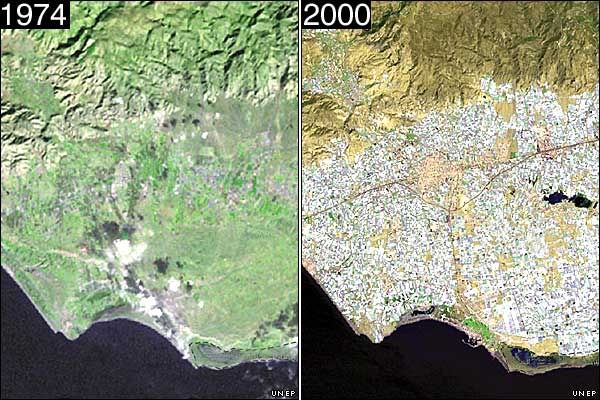 This is a shocking change in Spain; I'm, however, not too worried by the view. What was once traditional farmland has been replaced by greenhouses. So at least the land is being used for nature not industry, but the Fertilizer can be problematic. I'll let people in the comments clear that up.

This pic has two interesting points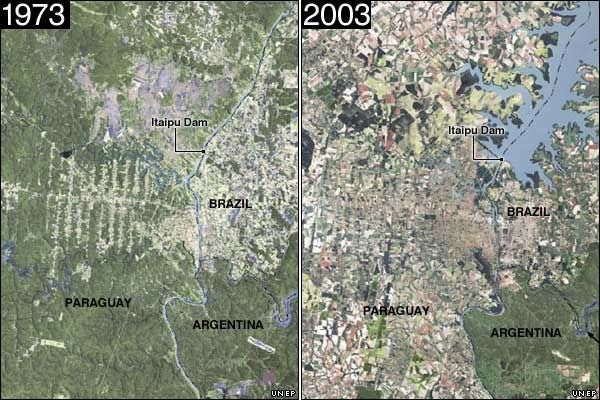 First notice the dam and the change that occurred. Second notice the lack of change in Argentina as opposed to Paraguay and Brazil. What remains in Argentina was once a larger Iguazú National Park. This is an example of a victory for those fighting deforestation; well at least a victory in Argentina.

There are a few more pictures at BBC here.

UNEP has an extremely informative press release here.
11:41 AM // Blogroll AE // Email //


Koran abuses confirmed
The U.S. Military has admitted (in a typical Friday news dump) that it has indeed desecrated the Koran in its complex in Guantanamo Bay, Cuba. More specifically "American jailers (...) splashed a Koran with urine, kicked and stepped on the Islamic holy book and soaked it with water". Again this comes from the U.S. Military, not some half-assed magazine.

Join the conversation here.

More links:

Pentagon details mishandling of Quran

US Guantanamo guard kicked Koran
8:48 PM // Blogroll AE // Email //


Suicide attacks soar, Brits out in months
Carol Williams has a great report on the number of attacks in Iraq (tip to Juan Cole), all this as our leaders us that things are great and getting better in Iraq and the resistance is on there last legs. The same tune these liars have been singing since the Mission Accomplished speech.



Suicide bombings have become the Iraqi insurgency's weapon of choice, with a staggering 90 attacks accounting for most of last month's 750 deaths at the militants' hands, according to tallies by the U.S. military and news agencies.

Suicide attacks outpaced car bombings almost 2-to-1 in May, according to those tallies. In April, there were 69 suicide attacks -- more than in the entire year preceding the June 28, 2004, hand-over of sovereignty.

A suicide car bomber attacked the main checkpoint to Baghdad's international airport yesterday, wounding 15 Iraqis, the U.S. military said. The car bomb exploded by a security checkpoint where Iraqi workers were waiting in long lines in their vehicles to enter the sprawling airport grounds.

Hussein Muhsen, an aircraft engineer with Iraqi Airways, described a loud blast followed by a mountain of dust rising in the air. Blood and human limbs splattered down on the hoods and roofs of the cars, Muhsen said.

U.S. forces said insurgents opened fire after the attack. Witnesses said U.S. troops also fired. The airport road has been one of the most frequent scenes of insurgent attacks.

Iraq has experienced daily bombings for months, and yesterday was one of the first days in weeks in which no fatalities other than the bomber were immediately reported from such attacks.

The frequency of Iraq's suicide bombings is unprecedented, exceeding the practice through years of the Palestinian uprising against Israel and other militant insurgencies, such as the Chechen rebellion in Russia. Baghdad alone saw five suicide bombings in a six-hour span Sunday.

With U.S.-led forces now better protected with concrete blast walls and concentric rings of concertina wire and sandbags, the militants have taken to targeting Iraqi police and civilians in their bid to convince Iraqis that their new leaders can't protect them.

Increasingly, Iraqis are believed to be carrying out at least some of the suicide attacks.

U.S. officials and Iraqi analysts say the insurgents' resources are increasing on several fronts: money to buy cars and explosives, expertise in wiring car and human bombs, and intelligence leaks that help the insurgents target U.S. and Iraqi forces.

Suicide attacks are on the rise because the explosive devices "are simple to construct and easy to operate, thus making suicide bombers difficult to detect," said Navy Cmdr. Fred Gaghan, in charge of the Combined Explosive Exploitation Cell in Iraq, which studies bomb scenes for clues to insurgent tactics.

"At this time, there is nothing to indicate that the availability of volunteers is on the decline," he said, noting the media coverage and videos of suicide bombings posted on the Internet that fuel extremist recruitment.

Saad Obeidi, a retired Iraqi major general and security expert, suggested that President Bush had invited Islamic extremists to bring to Iraq their fight against the United States. "One aim of the U.S. military, once it invaded Iraq, was to lure all insurgents and terrorists from all over the world to confront them here," he said.

The first suicide bombings of the insurgency were attributed to foreign infiltrators -- mostly Palestinians, Yemenis, Syrians and Saudis -- but Obeidi believes that has changed. "The Iraqi way of thinking in the past totally rejected that someone would kill himself," he said. "But once they realized how powerful this weapon is and saw its effectiveness, Iraqis started getting involved in suicide operations."

Some U.S. officials agree. "There's a kind of axiom out there that says Iraqis aren't suicide bombers," Gen. George W. Casey, commander of multinational forces in Iraq, told reporters in Baghdad this year. "I'm not sure that's the case. I believe there are Iraqi Islamic extremists ... that are very capable of getting into cars and blowing themselves up."

Other U.S. officials say they still believe that foreign fighters are responsible for most of the suicide attacks, which have increasingly targeted Iraqi civilians and security forces. "There is no evidence this is being done by Iraqis," said U.S. Maj. Gen. John Defreitas, intelligence chief for the multinational mission that has 150,000 troops in Iraq. "In every case we've seen, the driver has been a foreigner."

Coalition officials acknowledge, however, that the numbers show an Iraqi-dominated insurgency. Fewer than 5 percent of those killed or captured have been foreigners, one official noted. He also described the influx from abroad as a "very, very small part" of the estimated 12,000 to 20,000 insurgents.

A recent attack in the city of Baqubah illustrated an Iraqi role in suicide bombings.

While inspecting his security unit outside the Baqubah courthouse, Imad Shakir, a police major, observed an unfamiliar young man in an ill-fitting police uniform approaching.

Shakir's officers asked the purported first lieutenant for identification, then Shakir suddenly realized why he couldn't place him, the officers say. He leaped to seize the intruder but was too late to prevent the impostor from detonating his vest of explosives, lumpy and bulging beneath his blue clothing. Shakir, the suicide bomber and three bystanders died in the fiery May 15 explosion.

What set the Baqubah bombing apart from the few others in which survivors got a glimpse of the attacker was that Shakir's killer was recognizably Iraqi, said the Diyala province police lieutenant colonel in charge of the investigation. "The injured people assured us that the suicide attacker was Iraqi. They could tell by the way he talked and from his appearance," said the officer, who spoke on condition that he not be identified.

Obeidi, the retired general, sees the rise in suicide bombings as recognition among Iraqi extremists that they are an effective weapon against the superior numbers and arms of the occupying forces.



So as Iraq simmers into an full civil war, British troops plan to withdrawal within a year.

British troops in southern Iraq expect to hand over control of security to local Iraqi defence and police forces within a year, according to the senior British police officer overseeing their training.

"I would expect that within the next six to nine months in certain areas under British military control, the day to day running of security will be handed over entirely to the Iraqis," said Paul Kernaghan, the British police force's main spokesman on international affairs.

...

Under a first phase expected to be under way by March of next year, British troops would withdraw to main army bases from forward operational duties, with the capacity to offer support to Iraqi police and defence forces if needed.

A second phase would involve a phased withdrawal of British troops from Iraq, although a final decision on this has yet to be taken, and will depend on what progress is made in stabilising security. Mr Kernaghan described security in southern Iraq as "relatively stable" compared with Baghdad, where "you cannot safely go by road from the airport to the city centre".
3:19 PM // Blogroll AE // Email //


Army misses recruiting goals, again?
Tough job ahead for the Pentagon spinmisters, Recruitment for our all volunteer army has been low for some time now, back in March CBS covered the lack of recruits

The Army's recruiting challenge is critically important not only to the long-term commitment in Iraq but also to the Army's goal of expanding by 30,000 soldiers. Through the first five months of the budget year which began last Oct. 1, the active Army is about 6 percent behind schedule to meet its 2005 recruiting goal.

USA Today wrote

In what could be a troubling sign for the military, the active-duty Army missed its February recruiting goal by more than 27%. It was the first time in almost five years that the Army has failed to meet a monthly target.
...
Guard and reserve recruiting has lagged. Through January, four months into a recruiting year that runs from October 2004 through September 2005, the Army Guard was almost 24% behind its recruiting target. Figures were unavailable for February. The Army Reserve was about 10% below its recruiting target through February.

The Army National Guard and the Army Reserve are part-time forces made up of soldiers who train typically one weekend a month and two weeks in the summer in peacetime. That has changed dramatically, however. Guard and reserve troops now make up about 40% of the full-time U.S. troops in Iraq.

February's results are the first sign that recruiting problems plaguing the Guard and reserve are spreading to the active force.

Reuters via Yahoo!

The U.S. Army missed its April recruiting goal by a whopping 42 percent and the Army Reserve fell short by 37 percent, officials said on Tuesday, showing the depth of the military's wartime recruiting woes.
...
The active-duty Army signed up 3,821 recruits last month, falling short of its goal of 6,600 for April, Army Recruiting Command spokesman Douglas Smith said. That left the Army 16 percent behind its year-to-date goal, officials said.

The Army is striving to attract 80,000 recruits in fiscal 2005, which ends Sept. 30. The Army has not missed an annual goal for signing up new soldiers since 1999, and had not missed a monthly goal since May 2000.

The Army said on Monday it missed its April goals, but declined at the time to release the exact figures.

Earlier this month the Army ordered a one day recess in recruitment to deal with coercion tactics to get people to commit to fight an illegal war, a war the public overwhelmingly doesn't support, against their will.

On May 20, all 7,545 recruiters at 1,700 recruiting stations nationwide will be counseled by Army officials about what is permitted in the effort to coax people to enlist, officials said.

Army Recruiting Command spokesman Douglas Smith said the Army is investigating 480 allegations of improper conduct by Army recruiters in fiscal 2005, which began Oct. 1. The Army looked into 473 such allegations in all of 2000, 643 in 2001, 745 in 2002, 955 in 2003 and 957 in 2004, Smith said.

earlier in the same article

The incidents included a Texas recruiter threatening a man with arrest if he did not show up at a recruiting station for an interview and Colorado recruiters telling a high school student how to get a phony diploma from a nonexistent school, Army officials said.

Now the situation is at a point where the DoD needs to go into damage control. Recruitment numbers are usually released on the first of each month, but they have pushed back May's data for next Friday (nothing good gets released on Friday's) while the powers that be try to spin something positive out of their obviously poor numbers

The Pentagon on Wednesday postponed by more than a week the release of military recruiting figures for May, as the Army and Marine Corps struggle to attract new troops amid the Iraq war.

The military services had routinely provided most recruiting statistics for a given month on the first business day of the next month.

Air Force Lt. Col. Ellen Krenke, a Pentagon spokeswoman, said the May numbers for the active-duty and reserve components of the all-volunteer military will be released on June 10.
...
Asked whether the move would simply delay the release of bad news, Krenke said, "That's not necessarily true," noting that "we expect the numbers to improve during the summer months."

Military recruiters have said potential recruits and their parents were expressing wariness about enlisting during the Iraq war. They said improving civilian job opportunities also were affecting recruiting.

The regular Army missed its recruiting goals for three straight months entering May, falling short by a whopping 42 percent in April. The Army was 16 percent behind its year-to-date target entering May, with a goal of signing up 80,000 recruits in fiscal 2005, which ends Sept. 30.

The Marine Corps missed its goal for signing up new recruits for four straight months entering May and was 2 percent behind its year-to-date goal. It hopes to sign up 38,195 recruits in fiscal 2005.


Everything is fine in bushCo. land. Don't worry your safe, just keep shopping.

(commenting on a similar post is here at DailyKos)

10:54 AM // Blogroll AE // Email //


Fire Tom DeLay
Later today, myself and a group of Charlestonians will personally deliver a 39 page petition containing hundreds of thousands of signatures from across the Republic to Representative Henry Brown requesting the end to Tom DeLay's era at the lead of the Republican lead House. Nationwide, hundreds of similar groups will deliver similar petitions to their Republican Representatives.

It is troubling to think that so many people wish to circle the wagons and defend this man as their leader. The Republican caucus is so arrogant and/or ignorant they want and allowed (up until recently) the Republican lead House to change the rules of ethics in order to protect their leader; changing rules has become a common theme for Republicans in both the House and the Senate as of late.

Mr. DeLay's political action committee, TRMPAC (Texans for a Republican Majority Political Action committee), was found to be in violation of Texas state's election law by failing to report $684,507 in contributions from corporations and other donors in 2002.

When Mr. DeLay was asked if this ruling had implications for him, he responded by saying "Not for me. I'm not part of it."

Is that so?




and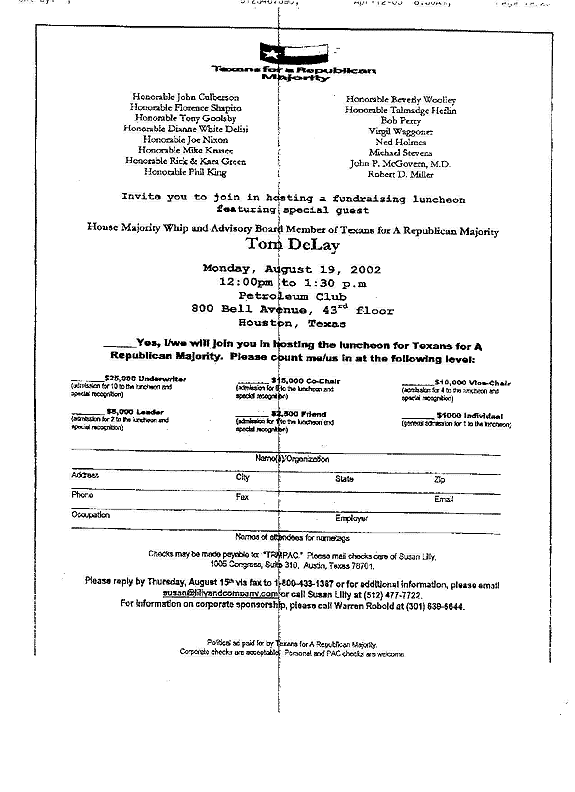 9:34 AM // Blogroll AE // Email //


Many May flowers needed for the bushCo. blood bath in Iraq
I had the following exchange with a good friend (and a one-time poster here) about the war in Iraq (can we now call it a civil war?). It read as follows but attempted to polish the situation in Iraq, I think this is, first of all, wrong, and second of all, a problem in the way this war is presented to and perceived by the average American

I haven't seen anyone mention this on the news, and I figure it's important. So...

Although it's hard to tell from TV that Iraq is a little safer for our soldiers, it is. The death rate per day of the troops has fallen from 4.1 during the elections, to 2.14, to 1.29, and has just recently edged up a bit to 1.63. The recent rates are lose to where they were right after the invasion. You can then assume that less troops are being injured also.

One other thing that is a bit strange is that the ratio of American troop deaths to coalition deaths has increased. The coalition of the willing doesn't seem to be very willing to put their necks on the line. Americans account for over 90% of combat deaths and this percentage increases daily.

So...The good thing is that Iraq is safer for our soldiers now. However, the coalition is very slowly melting away both in numbers and dedication. But, if we're already accounting for over 90% of the casualties, who needs them anyways? I guess that's what the neocons thought in the first place. Regardless of what anyone thought about the ridiculous idea of invading Iraq for terrorism and WMD, the war is now one primarily for democracy, which we should all agree should succeed. If democracy would have been the selling point of the invasion in the first place, I'm sure more liberals would have gone along with it. . . but then I guess less conservatives would have.

I responded by explaining that "The only reason our death rate has diminished is because our troops aren't engaging the insurgents. The Iraqi Army is." I continued to point out some stats from Iraq Coalition Casualties at the time... "Over 700 Iraqi Military/Police personnel have died since 1/05. We're just shifting the load. The death rate of Iraqi Military/Police has doubled since January." The Iraqi Army lost 199 in April and 270 in May.
(all stats on Iraq war fatalities were taken from Iraq Coalition Casualties)

Well, with great sorrow I have to report that my friends logic was a one month wonder and my point on the Iraqi Army is still true. May was a terrible month for America, we lost 77...nope 78 (at this late hour) brave Americans to this illegal and unnecessary occupation.

11:28 PM // Blogroll AE // Email //


Advice to Batshit Loopy Prez
(no original content here, this was stolen from Daily Kos as a diary by BostonJoe. It is hilarious...)
Dear Batshit Loopy Leader of the Free World,

I just got done listening to your fifty minute press conference. Since someone left a hand grenade for you at one of your recent public speaking events, I took the opportunity to jot down some constructive criticisms that I think might make people less hostile to you in the future. Please consider the following.

First, stop smirking. I was only listening over the radio, but I could actually hear you smirking at times. I mean, your policies really suck. But I think it is the fucking smirking that is engendering a lot of negative energy. I actually heard a guy in a book store (that is a place where people go to buy books - you know, the things people purchase to read) the other day say to his friend, "His policies are no worse than Reagan's, but that fucking smirk." The fact that he didn't mention you by name, and that it was clear to all within hearing distance that he was talking about you, in public, tells me you've got a fucking smirking problem. As you'll recall from your days as a recovering alcoholic, the first step is to admit it. Okay. Stop fucking smirking = less hand grenades. I am pretty sure about this.

Second, stop using phrases like "it's what the American people want" when you are talking about policies you have been told to shill. I know you've been elected twice as the President of the U.S., with the assistance of the U.S. Supreme Court, the government of the State of Florida, insane fundamentalist Christians, and Diebold. But trust me when I say this. You have no fucking clue what "the American people" want. They are a diverse group, the majority of whom think at an intellectual level you will never attain. Just because Karl, Dick, Rummy, Condi, or any other of the batshit loopy (it is a relatively new phrase, invented solely to describe your government, I think) advisors you have surrounded yourself with, give you a policy they want you to sell to the American people, doesn't mean that you speak for the American people. Or the "citizens of the world." Let the people worry about what they want. Just stick to shilling your bullshit with phrases like "I want" or "this administration wants." Less rage invoked = fewer homicidal thoughts in your audience = good idea.

Third, never, never, ever, EVER, interrupt a member of the domestic press corps (these are all people trained in the art of communicating via the English language, at least now that your butt-boy Jeff Gannon has been removed) to demonstrate your superior language skills. Let me give you a specific example here. Remember the guy who asked you this morning about our defense department's decision to "scrap" our only military contact with North Korea (where we are still searching for the bodies of our dead from the Korean War - an interesting historical comment about war, I think). And, you interrupted him (smirking at the time, right?) and said " 'scrapped,' that's the verb you used right. I would say 'reassessed.' Yuck, yuck, yuck." I know. Something you learned from the "Framing by Frank Luntz" course that Karl has you taking, right? In private, that may have been a really funny thing to say. I'd like to commend you for trying to expand your vocabulary, and for being able to identify the verb in the question. Very good. But, in all honesty, sir, you are kind of a dim feeb. And when a dim feeb (smirks) argues about language usage with a trained professional, it just kind of makes the dim feeb look like an aggravating asshole. Aggravating asshole = engendering hostility = you get it by now. I mean they might start calling you in off the bike path when there is a threat, if you just stop being an asshole. I know it's hard, but try Georgie. Try.

Fourth, please stop calling anyone "Stretch." I know. You love the camaraderie of the whole nickname thing. But, "Stretch?" Maybe cute in TV dialogue circa 1950-1970. But, now, just fucking annoying. Engenders hostility, etc. Try a new nickname for that guy, and we will take it on a press conference by press conference basis. It might eliminate just a little hostility toward you. Not as much as getting rid of the fucking smirk. But any little bit might be enough to save you, man.

Fifth. Work on the mock outrage when you are trying to dismiss the Amnesty International Report condemning the United States as a rogue nation. I think your intonation was off when you said the report was "just absurd." Many Americans probably don't yet recognize the credibility of Amnesty International. So if you can really sell the mock outrage, then that might defuse the anger they will feel when they realize you have turned our nation into an international pariah. Less hostility from people who could understand that we now are a country with our own disappearing act - dare I say death squads - would be a good thing for you now.

I had to shut you off after that. Blood pressure getting a little high. You understand.

But, one question. Did any of that elite media corp ever get around to asking you about how the Downing Street Minutes are serious and credible evidence justifying an investigation of your administration for high crimes and misdemeanors? I mean, that might have been a sticky situation, trying to get you to deny in public what we know you knew when you lied and took our fucking country to war. If they didn't ask yet, just keep practicing the denial that Karl wrote for you. You can do it. I doubt very much anyone is going to ship you to an international war crimes tribunal during your lifetime.

Best regards

Sorry Joe, but this hit the spot today :)
2:56 PM // Blogroll AE // Email //