American Entropy is dedicated to the disruption and discrediting of neoconservative actions and the extreme ideals of the religious right.
Saudi Arabia: Friend or Foe?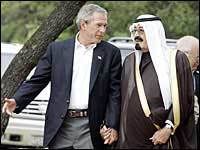 Welcome Slate readers, have a look around...

Well the conventional wisdom most have is that they are our friends. But I would argue that it's a little bit of both. Additionally, this 'glass half full' view now has a big hole in it and is draining fast. Events in foreign affairs in the past month have suggested as much. Consider their support for Hamas; their support for the spread of a variety of militant Islam thought the Middle East, North Africa and beyond; the large number of Saudi Arabian fighters entering Iraq; and now their "counterproductive role in the Iraq war."

It is clear that despite the points highlighted above, the presence of copious amounts of hydrocarbons make looking away easy. My question is when will belt-way right-wingers and neocons see the light and apply some of their rhetoric towards the Saudis? Who knows, maybe they'll listen.
Posted by Geoff
10:51 AM // Blogroll AE // Email //


Links to this post: